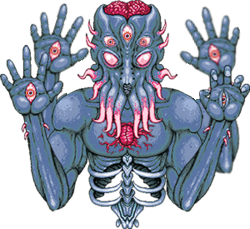 The
Sun Lord
is a War-Mode Version of Moon Lord but more powerful.
instead of 3 True Eyes of Cthulhu, it has 7 True Solar Eyes and also has 4 Hands. It acts exactly like Moon Lord but if player gets too far Sun Lord will Teleport and deal 9999 Damage (Same as Dungeon Guardian)
Stats
His mouth: 90000

(120000

in Expert Mode)
Fight
Sun Lord will shoot Solar Eyes that follow the player for 3 minutes and can deal 250 damage and has 0.4% chance of dealing 1000 damage to the player. Once you defeat the eyes from his hands, the eyes from its head will open. he summons True Solar Eyes (a Yellow version of True Eye of Cthulhu). In order to fight Sun Lord's Heart, you have to destroy the Shield first unlike Moon Lord which removes its shield. It also shoots a Solar Ray that deals 300 damage (Red version of Phantasmal Ray)
Appearance
- Sun Lord looks more like Moon Lord but has a Grey-like Skin color and Red Brain, Eyes, Core and Heart.
- It Has 4 Hands and 7 True Solar Eyes
Spawning
To summon Sun Lord you need to Craft Celestial Flame. you have to do Celestial Sigil + 100 Solar Fragments.
- IT CAN ALSO BE SUMMONED BY DESTROYING THE CELESTIAL PILLARS. AFTER ALL THE CELESTIAL PILLARS WERE DESTROYED, ANOTHER COSMIC PILLAR WILL SPAWN IN A CRIMSON/CORRUPTION BIOME.
Drops
- The Nega Blade has a 60% chance of dropping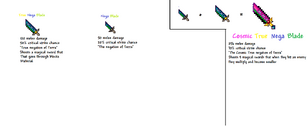 - Solaris (Yoyo) has a 60% chance of dropping
- Portal Gun has a 100% chance of dropping
- Solarite Ore (x100) has a 90% chance of dropping
- Xamloxes' Solar Staff has a 30% chance of dropping
- Iron God Staff has a 10% chance of dropping
- Procyon Arrow (x67/68/69/59) has a 100% chance of dropping
- The Bloody Lollipop has a 100% chance of dropping (The Bloody Lollipop info: The Bloody Lollipop is a drop that allows The Confection and Crimson to spawn in a Hallow Corruption world and vice versa.)