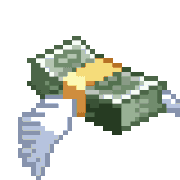 "You hear notes flapping..."
- Message when Money Monster spawns.
Money Monster is a powerful Hard Mode boss summoned using the Old Coin. 
It is immune to all debuffs except "On Fire" and "Cursed Inferno".
Stats
Attacks
The Money Monster mainly attacks by firing note-like projectiles at the player, but also has a powerful melee attack, in which it swoops down to attack the player.
A ranged weapon is recommended to fight it.
Drops
1  
10-15 Greater Healing Potions
0-5 Souls of Sight
0-5 Souls of Might 
0-5 Souls of Fright
Notes